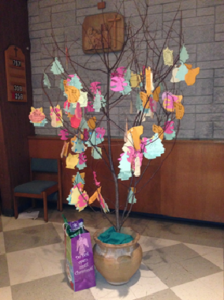 The Giving Tree is at the front of the Church and will remain there until Sunday, December 17th.
During this time you will have the opportunity to take ornaments and purchase some or all of the items listed. Once again in conjunction with Catholic Charities, we will distribute gifts to Elijah's Promise, Great Expectations, Naomi's Way, Ozanam Family Shelter, Ozanam Men's Shelter, PACT, YES Early Learning Centers (Sacred Heart & St. Ladislaus), as well as Pregnancy Aid and Local Families.
 We will be collecting and sorting gifts on the weekends of December 9th/10th and December 16th /17th .
Please note we will be collecting gifts on these weekends only.  ALL GIFTS ARE DUE BACK NO LATER THAN 2:00 PM ON DECEMBER 17th!
Please SECURE THE ORNAMENTS TO THE PACKAGES, otherwise, we have no way of knowing where the gifts are to be delivered.
As in the past few years, Great Expectations is requesting gifts through the Amazon Wish List.   To access the list, please click here.
In addition to the gifts listed on the ornaments and on the Amazon Wish List, there is a need for:
Children's coats, hats, and gloves
Men's and women's sturdy/warm winter hats and gloves
Underwear – Men's sizes Med – XL and Ladies sizes 6-8  (There is a great need for these items)

These gifts should be placed under the tree and they will be distributed where needed.

This year over 500 ornaments have been placed on the tree. There is still a great need in our community so please, if you have not done so already, grab a tag, purchase a gift, and bring joy to those less fortunate. St. Matthias parishioners and friends have always been generous in the past.  Please keep up our tradition going – it means a lot to so many people in need. Thank you!

With the many gifts to sort and deliver, we can use more elves and drivers for deliveries on the mornings of December 11th and 18th , after the 8:00 AM Mass.

Should you have any questions and/or would like to volunteer to help, please contact:

Joanne Diana at (732)322-6270 or j-diana@comcast.net