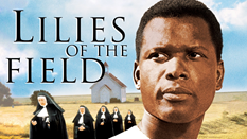 St, Matthias Racial Justice Initiative Hosts Movie Night
DATE:       Saturday, May 27th
TIME:       6:00 pm Dinner / 6:30 pm Movie  
WHERE:   St. John XXIII Room
Please join us for a special Easter season movie night!  We will be watching Lilies of the Field, starring Sidney Poitier.  There will be sandwiches, beverages, cookies, and lots of fellowship.  There will be a free-will offering for dinner and ALL are encouraged to attend!
Please RSVP to matthiasracialjustice@gmail.com by Thursday, May 25th so we can prepare accordingly.
HOPE TO SEE YOU THERE!